RSS, also known as Rich Site Summary or Really Simple Syndication, is a web feed format that publishes frequently updated information from external websites such as blogs, news headlines, audio, and video. RSS feeds benefit users who want to receive timely updates from favorite websites or to aggregate data from many sites.
Instructors can add an external RSS feed to a course announcement, and students can add an external RSS feed in a group announcement. This lesson shows how to add an external RSS feed in a course, but the steps are the same.
Please note that when you create the RSS feed, only future feed content will be pulled into the announcement; it will not pull any existing or backdated content.
Open Announcements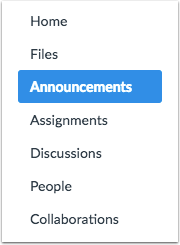 In Course Navigation, click the Announcements link.
Add External Feed

To add a feed from another website or blog (via Tumblr, Blogger, and/or Wordpress) to the Announcement stream, in the sidebar, click the Add External Feed link.
Enter Feed URL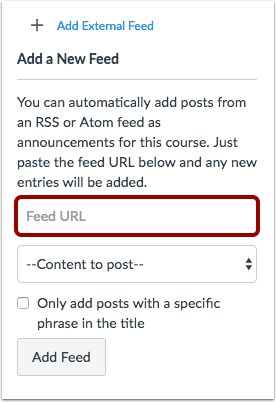 Paste the feed URL into the feed URL field. All new entries from that RSS feed will be added to Announcements.
Set Content to Post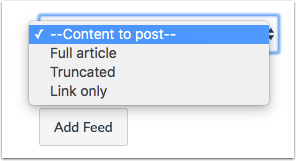 Select what type of content you would like to post by selecting an option from the Content to post drop-down menu.
Add Feed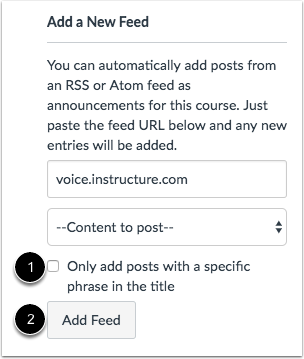 You also have the option of choosing to add only posts with a specific phrase in the title by selecting the Only add posts with a specific phrase in the title checkbox [1]. Indicate which words or phrases you want posts from by typing in the text box below the checkbox . Click the Add Feed button [2].
View External Feeds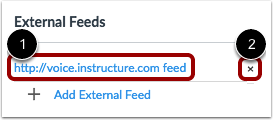 Now that you have added the RSS feed, it will show up under the external feeds [1]. If you want to delete the external feed, click the Remove icon [2].
Note: You will have to wait until a new post is published on the external RSS feed before you can see it on the Announcement feed.