As needed, you can use the Gradebook to excuse a student from an assignment, discussion, or quiz. You can also excuse a student from a group assignment. Excused assignments are not calculated as part of a student's total grade.
When an assignment is excused, the assignment page and the student grade page will show the student that he or she has been excused from the assignment. Students cannot submit excused assignments.
Open Grades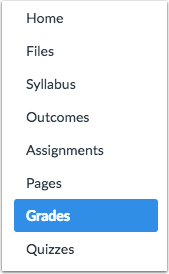 In Course Navigation, click the Grades link.
Select Assignment

Locate the student and the assignment you want to excuse.
Excuse Assignment

In the Gradebook cell, type EX. Then press the Enter key.
View Excused Assignment

View that the assignment has been excused for the student.